Welcome to the Surya Civic Association web site
Kargyak is an isolated village situated in the Indian Himalayas in the altitude of 4200 m above sea level and it is one of the last places where the original Tibetan culture still survives. Until recently, there was no school in the village and the children had no other chance but either to leave for distant boarding schools or never to learn to read and write. In September 2009 the Surya Civic Association finished construction of the specially designed "passive" school-building heated by sun, fully ecological and also compatible with local structures also in terms of appearance.
News from Kargyak
'Everybody can blossom, even in winter' - 2013-05-15
And this is what we stuck to during long winter months in our Sun school. One can ask a question what to do in the Himalyas over winter when everything around you gets covered with one meter of snow.
Stubborn school keeper - 2013-05-08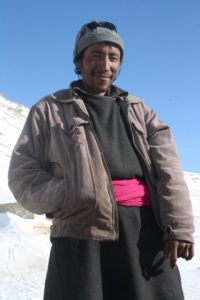 At the end of April, there was a cease of the contract of our school keeper and we would like to share the experience of working with this extraordinary person. (...)
A "common" dispute between neighbors - 2013-03-27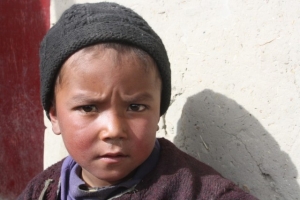 Today is a beautiful clear afternoon and being "high" by all that I can see around me, I am setting out to make a phone connection with the outer world. There is not much time left as there are grannies coming up to the school soon to get their eye ointment as well as doksa girls coming for English lesson. In spite of that I am not in a hurry. Time is meaningless here and nobody takes it into account anyway. Nobody cares about being late here. In front of Angmo's house, I am meeting granny Yangdol. She is bleeding, her finder is broken. She is trying to explain how the injury has happened. According to her gestures, Noryang was chopping wood, did not pay enough attention and hurt her. (...)
'The Journey is long, steep and not easy at all - but you can walk it, and even reach the end.' - 2013-03-21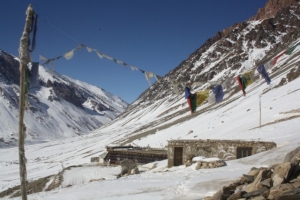 With the first sun rays we are packing our expedition 100l bags which we have to leave in Padum and we are setting out only with the most necessary stuff. We are putting on almost all clothes we have as the temperature outside is -28 Degrees and at a very slow speed we are getting to Old Padum. There Stanzin Gelek prepares tea and breakfast for us. He is one of the man who is also going to walk to Lungnak valley. At his house there is another man joining us and during first few metres of our journey we are meeting Dolma, an old, however, very energetic lady from Raru and a dog that we call Neha. Today, there is approximately a distance of 20 km ahead. ItÅ› freezing and the snow cover is at least 30 cm. Walking in these conditions is almost mission impossible. Though we have to keep going. Soon there should be the Sun warming us up and make our day at least bit enjoyable. We keep stopping a lot. Walking is really difficult. I think we both regret all highly important things we are carrying. (...)
Winter Kargyak crew on the road: Petra and Zuzana coming back to scene - 2013-02-06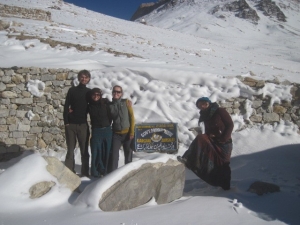 In Surya civic association, January is a relatively demanding period: A couple of volunteers in Kargyak is slowly slowly completing their mission at school and is getting ready to hand over the imaginary dripstone to another crew, while these two are in the course of intensive preparations for the winter trek into the heart of the Himalayas – a challenging journey on the frozen river Zanskar that should lead two new volunteering teachers to the very end of the Zanskar valley where they should settle for further five months or so. Why is Surya winter season exceptional this year? (...)