Welcome to the Surya Civic Association web site
Kargyak is an isolated village situated in the Indian Himalayas in the altitude of 4200 m above sea level and it is one of the last places where the original Tibetan culture still survives. Until recently, there was no school in the village and the children had no other chance but either to leave for distant boarding schools or never to learn to read and write. In September 2009 the Surya Civic Association finished construction of the specially designed "passive" school-building heated by sun, fully ecological and also compatible with local structures also in terms of appearance.
News from Kargyak
Arrival of Kargyak Postman and Other News from the Battlefield - 2014-05-15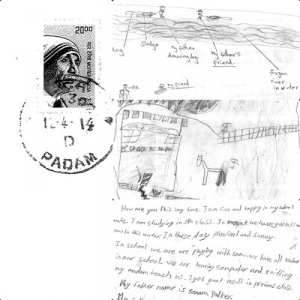 Surprise!! In the first week of May we discovered ten envelopes in our Surya mail box (the Czech one). Postage stamps with Mother Teresa, stamp dated April 12, 2014, location: Padum! Mail from Sun School! The letters must have been through a truly adventurous journey: one of the governmental teachers or villagers brought them from Kargyak to Padum on his back through the snow-covered valleys, and bearing in mind the latest mid-May news that the road from Kargil to Zanskar has not been opened yet, it is obvious that the envelopes must have been taken to the outer world by an army helicopter!
Sun School in a New Gonchi - 2014-05-15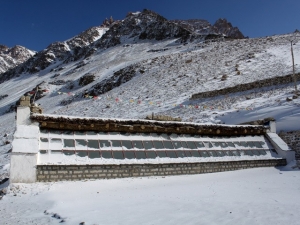 After long long planning and intensive preparations, Surya Association has handed over the maintenance and partial management of Sun School to Kargyak villagers and local teachers. That is a brief summary of the major change that took place in Sun School in 2013. What exactly happened and what are the actual consequences of such transformation?
Zanskari Cuisine...how to prepare 'mok ­ mok' dumplings.. - 2014-01-19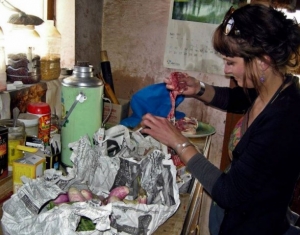 Despite the simplicity and frugality of the Zanskari cuisine, there are many types of different food and most of them are incredibly tasty. As for breakfast, 'chapati' flat cakes are usually served with cooked vegetables, 'tuk­tuk'bun dipped in tea, freshly - made youghurt or in case of physically demanding work they serve rice and 'dal'. The breakfast is served much later than when we are used to at home and therefore the other food is also postponed. Lunch is not the main food of the day and during spring and summer months, the lunch is eaten in fields so that they can save time getting home and back and preparring the food. The main food of the day for most of the Zanskaris is dinner which is served between ten and eleven o'çlock at night. No matter how late they serve the food, there is no rush. Rice is almost every day diet. What it comes up with, it depends on the season and on the currently availability at home or in the garden. In winter it is typically 'dal' lentils that is cooked. In summer they eat potatoes, cauliflower, peas or anything having leaves that can be found up in the hills or in the garden and it is generally called vegetables. Another typical part of Zanskari diet are dumplings 'ti ­mok' or ' mok ­ mok' that are usually served on special or feastive occasions. Almost every valley, every village and often even everyfamily uses different style of shaping. How to make Mok ­ Mok?
Tsomo: The first Sun School Graduate - 2013-12-17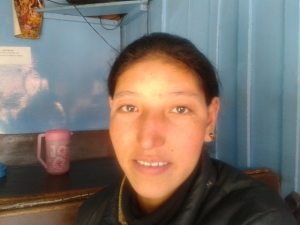 Tsomo is a girl from the village of Kargyak who has finished the eight class at the Sun School Kargyak as the first student. She has decided to carry on her studies and we would like to fully support her decision.
On the way Home - 2013-12-12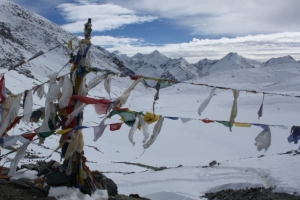 It is two o'clock in the morning and we are finishing our packing. For more than two days we haven´t slept, however, we are feeling lively, full of energy and we are looking forward to being "on the other side". So we are not even scared off by our twenty-kg-bags.