Welcome to the Surya Civic Association web site
Kargyak is an isolated village situated in the Indian Himalayas in the altitude of 4200 m above sea level and it is one of the last places where the original Tibetan culture still survives. Until recently, there was no school in the village and the children had no other chance but either to leave for distant boarding schools or never to learn to read and write. In September 2009 the Surya Civic Association finished construction of the specially designed "passive" school-building heated by sun, fully ecological and also compatible with local structures also in terms of appearance.
News from Kargyak
Nail polish healing aid - 2013-10-07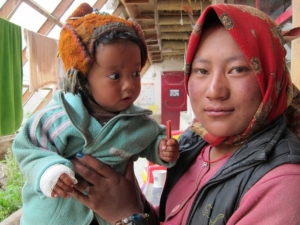 We've been in Kargyak for three months, however, this region in still full of surprises. We were advised that all health complications are treated with yak dung – yak dung as a warm pad, yak dung as a cold pad, yak dung as plaster… A material that is abundant. However, time goes by even in Zanskar, nowadays, nail polish rules. Nail polish with glitters is used for pinches, scratches, burns...
"Educated Women Better Future for Us" - 2013-09-14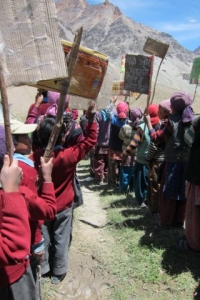 July was in the sign of demonstration supporting girls' and women's rights to quality education. There were about fifty participants, mainly students and teachers from the three surrounding villages. The demo was part of the two-day competition in reading and writing of the girls from sixth to eighth classes. The banners were in Urdu, Hindi and English with mottos "Educated Women Better Future for Us", "Every Girl Must Be Sent to School", etc. In the afternoon the parade went through Thangso via Ski to Kargyak. Although from the European point of view the demonstration had a minimal effect, we were pleased by enthusiasm of the teachers and students who prepared the demo, and we were absolutely astonished that people in this remote area think about the accessibility and quality of women's education. We are glad that we were a part of this happening. Anna and Liba
KIDS´ REPORT on a school trip - 2013-08-14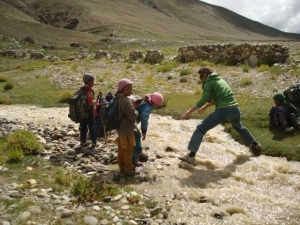 "We went to Stondey Gompa. We came from Kargyak to Yal and in Yal we stayed overnight. Then another morning we came to Padum. We went to Sir Zangpo's house where we drank some tea and ate chapatti and dal. Next day we visited Od Padum, bought some bananas and apples and in the evening we learnt how to use the internet. " Chuskit B, class 6 (read more...)
Back in Kargyak on the turnaroud - 2013-06-06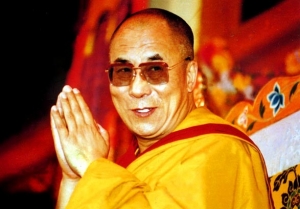 Eleven months after departure from the Sun School, where we spent with Libor Sirucek five winter and spring months, I have returned for five days back to meet children, villagers and remote land of rugged elemental mountain beauty.
'Everybody can blossom, even in winter' - 2013-05-15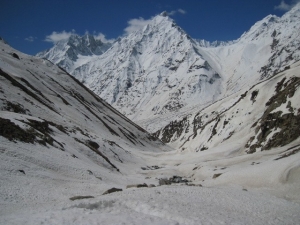 And this is what we stuck to during long winter months in our Sun school. One can ask a question what to do in the Himalyas over winter when everything around you gets covered with one meter of snow.