July is now almost over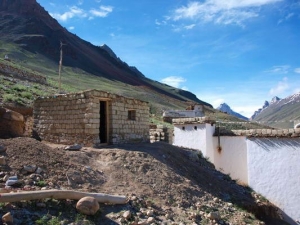 July is now almost over and we have had scarcely a summer day so far, but when a nice sunny day does come, we do our best to enjoy it to the fullest. Especially the kindergarten kids spend most of such days outside, enjoying their favourite activity, that is building waterways and other spectacles in front of the school. We build new tiny rivers, regulate the existing ones, and, most importantly, build dams, which then serve as a great place to wade through happily. The children in kindergarten must have been born civil engineers, they work without hesitation, reminding one of beavers, and in the end mud + water always = fun. Two very able volunteers have now joined us (Alexandra and Petr), we started with an overall cleanup and a series of repair works and alterations in and around the school. Thanks to the presence of the volunteers we have also been able to run extra English and Maths classes in the afternoon, with more demanding material for more advanced pupils and extra help classes for those who need more time and attention, but we also added arts and music classes.
Recently we have received a delivery of new textbooks from the education office in Padum, so we have new intsruments with which to "torment" our pupils. But the favourite subjects, as always, are arts and music as well as computer skills classes. Stepan has learned to play the basic rhythms of several popular local songs and the second and third class boys in particular have taken to wild dancing and singing. The girls have been a bit shy so far, but surely that will change over time. The popularity charts in arts are topped by a marvellously colourful set of watercolours (with 4 hues of blue, 3 of yellow, 2 of pink...) and the weaving of friendship bracelets.
When it comes to work outside of teaching, we have managed to complete the constructed of the new food storage building behind the school. Right now we are waiting for the school to dry (hopefully it will actually dry out one day, in the last four days it has rained ceaselessly) and the only thing left to do is the facade. The storehouse turned out to be a cosy little building which would make for a nice summer study, but its use has been made clear, so food will take precedence.
The trekking season is starting slowly, which means that almost daily the school welcomes several groups of curious visitors. We are particularly happy about the groups of hard-working Czech trekkers, mostly students, who stayed in Kargyak for a few days and helped out with repairs, such as with the support wall in the terrace in front of the school, where they did some really hard work. Passing medical students also held "surgeries" which were also a big success. It is our pleasure to use this space to thank everyone who came to help or brought presents (colour pencils, water coulours, medicines, hygiene supplies, books, sweet and other treats, etc.) which made the children's day, as well as ours. Thank you!