Losar, the most important holiday in Tibet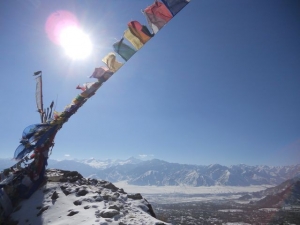 Losar is a very significant festival that comes or brings us lots of happiness os blessings.
LOSAR by Ragini Gupta, 13th December

L - Lots of lovable and cherishable moments
O - Offering party
S - Searching happiness
A - Atmosphere that is pure or transparent
R - Religious tendency
This festival is celebrated all over the ladakh. Every Buddhist engaged in religious ceremonies or indulge in holy prayers. They expect that this losar gave lots of happiness to each and every person either they are rich or poor. In this losar festival, every teacher enjoys a lot. Our school, Sun school, gave us vacations of 10 days. I.e. from 6th of December to 15th of December. These people prepares lot of simple dishes just like: rice, meat, momo, pulses, maggi. And in drinks they offer chaang, arak, rum etc. When their losar finishes then 7 days they held prayers in their homes. One they they call "Bad day" in which they broom in all rooms and removes old articles and arrange new articles in home due to coming of new year. Lastly, I say that losar is quite a fabulous festival in which every person enjoys a lot. I expect that this festival creates newness to each and every person. Thanks!!