When there's a will there's a way!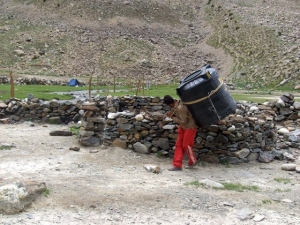 Mail in Kargyak is working so we can let you know about our last three weeks, which we spent here. For me it started in pulsing city Delhi, where I´ve also realised that I forgot charger to my camera at home (I was quite angry about that). I´ve tried to buy it here, but unfortuntely it is not sold in India. I didn´t have time to solve this problem, next day I took plane to Leh in Ladakh, where I met Petra and our guides.
Acclimatization went well, so after three days we could start our journey to Kargyak on cadar - frozen river, which is in winter only possible way from Ladakh to Zanskar (I must say we were bit afraid of that).First two days on chadar were nice and easy. Ice was mostly solid, so we didn´t have big trouble. But next days were something different:)
During our journey ice on the river was smaller and smaller, somewhere we had to climb on rocks by the river. Our guides (wearing gum boots) where on the rocks as at home and there were moving ahead easily carrying not just their bags, but ours too (and sometimes us as well). While we were watching river with big respect (and sometimes fear), they were laughing, joking and securing us. I´ve also realised that my eighty kilos plus bag is much more than local average because I´ve fallen through the ice at least two times.
We also didn´t miss fords. Three times we had to take off our shoes, put trouserleg as high as possible and go trough the icy river just in socks. Fortunatelly sun was shining (and shine was quite strong) so it was not a big problem to dry our clothes and kept going. We were quite happy that we have so good clothes and equipment. On the other side we were looking on locals, who we met on chadar, with big respect. Often they were wearing just traditional wool clothes and we also met guy in linen shoes. Instead of good equipment they have knowledge of local condition, they are very skilful and resistent. After four and half days we have reached Zangla, where we hired car and went to Padum. Here we took half day rest and bought some necesarry things for further journey.
Next day we started last part of our journey, which was quite steep and at the end it finished in 4200 metres above sea level - Kargyak village. We were quite tired because of high attitude and sometimes had problem to catch our breath:) But we were lucky, because every day we could stay in houses of locals, which gave us everytime very good food and also nutrient salt tea with yak milk.
After three days we reached Kargyak - small houses under big mountains. So we were finally here! In the village we met Stepan, which showed us way up to the school - and there were Lucka and Tomas.
In next few days they gave us information about school, we met people from village and also children from school. I´ve also solved my problem with camera charger - Stepan has quite similar and with help of hew wires it also works for my camera:) After three days we said goodbye to Lucka, Stepan and Tom and we stayed at school alone. First week we got used to life at school and several times went to visit locals to village. Petra met girls from doksa, who have special function in local society. All summer they are taking care of cattle, high in the mountains (so cattle can´t eat harvest). That´s why they can´t go to school, so winter afternoon can be only possibility to learn something. So they started to come to school and they are taking english lessons.
We also started computer lessons for children from second class and up. During first lesson every student created own folder on computer, and save picture (made by himself)in it.
Now, when I am writing this report, I am listening to sounds from Himalaya movie which locals are watching in another classroom (it seems they like it). And the last new is that next week our students will write a test from every subject.
So thats all from me at the moment, have a nice time.
Julee Martin and Petra