Buying sheep in the Himalayas isn't easy!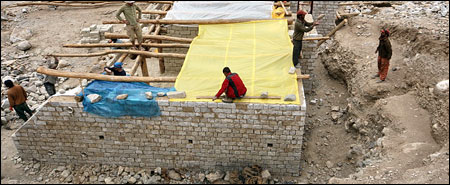 Buying sheep in the Himalayas isn't easy. Especially if you're a foreigner and you don't speak ladakhi and you've never bought sheep in your life. Even if you somehow manage to agree on the price you're still facing a problem of getting the sheep back to your village alive… sheep are perchaps stupid but they know that if they're taken away it might mean they won't live long so they don't cooperate and you end up dragging the sheep all the way back.
Our Surya team was longing for meat. We ate all the salamis - and soya meat was a poor substitute so Jana, Marketa and I decided to go to Doksa (nomad settlement) to buy the sheep. In the first Doksa they couldn't understand what we wanted so we bought some yoghurt and cheese instead and went to the second Doksa where we couldn't understand why they want so much (for the sheep) – when we came back Surya team couldn't understand why we came back without the sheep and we couldn't understand why they couldn't understand – communication problem (fortunately the Nepalese gave us some meat and today we sent another group of volunteers to get the sheep so keep your fingers crossed!!!)
On the way to Doksa I learnt that in Ladakh there is a "rule of three cups". I was invited to dinner in Thangso (village 2 hours away from Kargyak) and asked to have a cup of arak – strong local alkohol made of barley – with the head of the family. I agreed thinking it'd be one cup only just to find out that you actually need to drink three...
The life in Kargyak goes on undisturbed by bigger changes. Kargyak is situated on one of the trekking highways of the Himalayas so we have a lot of visitors passing by. They basically fall into 4 categories:
- goal oriented – they came for 3 weeks to India to do the trek, they can't stop, they run the mountains, they have schedule to follow so they're in a hurry
- British college graduates aged 16-18 who paid a lot of money to volunteer in one of the villages
- Tourists with high expectations – like a group of Czechs looking for a restaurant or Italian couple asking for a hotel with full board if possible
- Tourists with high expectations and a lot of money – followed or preceded by a group of horses and horsemen carrying portable toilets and beer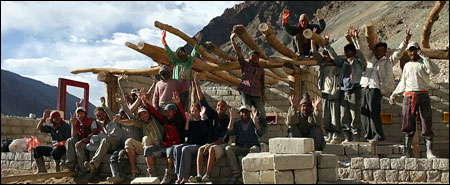 Occassionally we also receive guests who notice Kargyak and decide to stay for a while. Last year it was me – the idea of construction work, carrying stones and sweating heavily for 7 hours daily attracted me a lot - and this week it was Wolfgang - a german educator. Wolfgang plays guitar and sings. It was nice to have him playing in the evenings.
As for the constuction… The brick workers finished making and shaping the bricks and now we have to get the bricks and clay to the construction site. We are facing "the shit problem" at the moment. In Asia unlike in Europe shit is gold and we need huge amounts of it for the walls of our school. Back in Poland I kept being told that there is too much shit everywhere (bullshit in the newspapers and tv, shity roads, politician's bullshit) and at the same time there is so little shit in Kargyak that we have to import it from other villages. To sum up we are in deep shit because of lack of shit.
Our team is getting smaller and less international again. Milada and Adam are leaving on Sunday and Sharaf and I are leaving on Monday. That means there will be no non czechs left in Kargyak.
Honza asked me for my opinion about the project… I'd come back to Kargyak – both for the people and the landscape. Teaching the kids or just playing with them was a great experience and there must be something that makes people spend their holidays in here…
Zofia