New Kargyak crew: Adam, a guy who travelled a fair bit & David, an experienced trekker arriving from neighbouring Nepal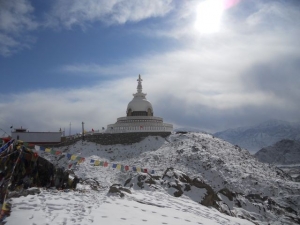 Greetings to all of you from a new Kargyak crew Adam & David. We are new volunteers for the summer term 2011, but who are we? Adam, a guy who travelled a fair bit and worked with NGO in Kenya, & David, an experienced trekker and volunteer, arriving from neighbouring Nepal. But let's start from the beginning, from our first meeting in north-Indian town of Manali.
Having arrived to Manali in late April, we were forced to wait due to heavy April's snowfalls. Towards the end of May the Rothang-la pass has been finally opened and we were free to go. It took only one afternoon of packing and next day we were on the way to cross the pass. The sights from the jeep were spectacular, though sometimes quite ridiculous - jeeps full of Indian families dressed in overcoats from late 80s trying to glimpse a bit of white-brownish slush and take a picture of this moment as a lifetime keepsake. All of them crowded in one particular place near main road. Like there is only one place in Himachal Pradesh. After this spot swamped by Indian tourists, we have finally crossed the pass and have entered to a snow land still struggling with strong afternoon sun. Only few miles after we've started to notice a dramatic change in a landscape. Vast forests shrank to only few lonely willows weeping in the wind. It was from that moment that we have entered Great Himalayan range.
The late arrival to Darcha and hunger led our steps to nearby local Dhaba. It was maybe the owner or the overall atmosphere that made us to settle down here for the next few days awaiting arrival of our porters from Kargyak. The snow-white awakening on a third day was nowhere close to poetic as it may seem. It was clear to us that this snowfall will be quite harsh and hostile in the Shingo-la pass which is 1500m higher than Darcha. The fear of further delays has struck us again. Luckily, it was the day after when our porters reached Darcha and our final journey was almost ready to go. Having arranged 2 horses to help us carry all supplies drank a glass or two of Chang it was time to go to sleep and time to wish for tomorrow's better weather. Unfortunately, our wishes were not listened to and a cloudy weather remains for most of the day, well, at least it is not snowing anymore. After few hours of waiting, decision has been made and in the afternoon we start our ascent journey towards Kargyak. Two days of trekking and we are here, here in the kingdom of snow and ice, just meters below Shingo-la pass. Enjoying every beam of sunlight along with bit of tsampa from Kargyak's locals we are trying to get as much energy before the final ascent, which started at 04:30 am. The sole purpose of this early timing is to walk on frozen snow and to prevent horses from sinking in the snow.
It is still deep and cold night when we are getting up. Very quick packing, hot tea and tsampa and we are off to the pass. However, because of the early and freezing start of our journey some of the streams and landslides have created dangerous and unstable ice puddles which were quite challenging for all of us and especially for our horses. Having survived this part of journey we were free to carry on our trip on a snow frozen surface up to the Shingo-la pass. Afterwards we continued our way down below the pass to the other side where we had our lunch and after bit of discussion we had agreed that we will continue to Kargyak on a same day. Five more hours are ahead of us, but from this moment it is narrow and easy path which is a bit of relief, even tough Adam suffered from a headache and David's feet were on fire. Luckily Kargyak is in sight. Firstly, welcomed by some lonely yaks, than by a sharp and strong wind and finally warm welcoming by Martin and Petra, who are now free to go home. So here we are Adam and David in Kargyak!
Adam & David