Blanka a Libor - leaving for Chadar - frozen river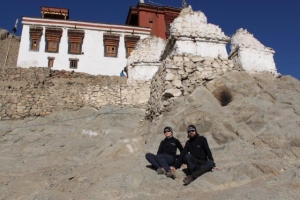 Zanskar is getting frozen. After abundant snowfall covered Himalayan peaks and passes at the day of our planned departure, summer road over Kargil and Penzi-la Pass [4401 m.a.s.l] to Padum was closed. On Sunday, January 15 we are getting to start a week journey along frozen Zanskar river.
From the beginning of this week night temperatures drop to -25C which are ideal
conditions for the change of mountain stream into river of ice.
Zanskar rises at the altitude of 3500 meters above sea level and meets
Indus after 370 km at the confluence runs along the river narrow windy
rood to Chilling in a distance of 27 km, where winter journey along
the river starts. On January 9, when we were walking alongside the
river several kilometers, the stream was not frozen completely.
Our stay in Leh besides of negotiations with local authorities we
dedicate to sightseeing in the city and its surroundings. Ensuring of
connection of satellite phone to internet in Kargyak was the priority.
After negotiations with several officers at different places in Leh
the only thing to remain is the signature of the mayor of Kargyak at
the form. Signature from will be delivered by girls after descend from
Kargyak at relevant office and after security fee payment is internet
connection allegedly question of two-three days. The result will be
clear at the beginning of February. In positive result we will give
the news from our stay I Kargyak regularly. Regarding of seized
satellite phone the Czech Embassy in Delhi must courte ously ask the
Government of India [Ministry of Telecommunications] for a favor of
releasing the phone...
The Indus valley is dotted by ancient Buddhist monasteries and castes
in Ladakh. Here in Leh besides of huge castle Khar built in the first
half of 17 century by ruling Namgyal family, Buddhist monastery,
masques and new Shanti stupa. Moravian Mission found in 1855 here. The
church of Moravian Brothers spread among local people besides of
Christianity [the Holy Bible was the first book to be translated by
them into Ladaki] the cultivation of "exotic" vegetables like potato,
spinach, cauliflower, reddish and tomato and also system of storing
and preserving root vegetables in semiunderground cellars. Skills as
knitting and baking are also introduced by Moravian missionaries. The
transcription of the name Leh is credited to them. Today Moravian
Mission School is attended by almost thousand children.
We have visited several Buddhist monasteries in the proximity of Leh -
Thiksey resembling Potala Palace in Lhasa, spectacular Hemis under
mountain peak and thousand years old Spituk.
...and now is the time to start up the frozen Zanskar river to Kargyak.
B&L