About the connection that costs a lot of effort, about the school that runs perfectly, about Phuktal, fests and footprints that you need to find before snow covers them completely Blanka (Padum 24.2.2012)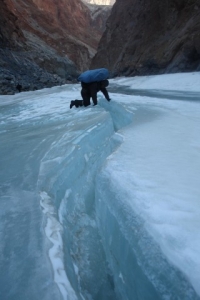 It has been over a month since the two of us arrived to the Sun School and replaced Zuzka and Karol. The school programme follows the winter timetable, i.e. once in a fortnight on Sturdays from 10:00 to 15:00, without any problems. We help teach English in the neighbouring village of Ski twice a week – I teach on Fridays and Libor on Tuesdays.  Wednesday evenings are devoted to movies for kids, which we show on a PC.  On Monday evenings we show films for adutls.  We organised a sleepover at school for girls from the 5th, 6th and 7th grade, which was a great success.  Particularly making decorations from beads and showing films in ladake were very popular.  Local people often invite us to join their families for dinner and so we get to taste local specialities.
Small children and kids of the 1st to 4th grade have school holidays – there is an annual buddhist celebration in Phuktal, which cannot be missed. Together with children of 5th, 6th and 7th grade, we set off for a 2 day track along the frozen river to a buddhist monastery, which was founded in 11th century. It is one of the most magnificent monuments in this remote part of Himalayas. The monastery is perched on an almost vertical wall of a rock above the river. The centre point is a cave in which the main temple is situated. All the pilgrims wear festive clothes, girls and women also wear their jewellery. People come from far away and bring presents for the monastery. Accomodation and food for the pilgrims is kindly provided for free by all the people in the villages that the pilgrims pass.

From Phuktal, it then takes only two days of lonely track to Padum along the frozen river. The mountain paths are not accessible at this time of year because of snow. I use the holiday time to use the nearest internet connection and send this message, because the officers in Leh came up with yet another reason why it cannot possible to connect the satelite telephone in the village of Kargyak to internet, although we fulfilled all their requirements for the connection. In meantime Libor and the kids are travelling back to Kargyak.
Many greetings to all our supporters from Blanka in Padum and from Libor in Kargyak.