Party night at school with ladies and a promise of yak droppings from all men in the village to make school warm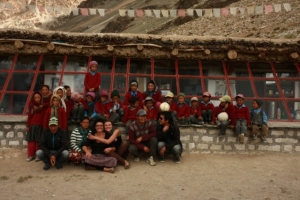 Our departure is to come soon and we would like to say farewell to the villagers. Therefore we organize parents' meeting on Monday evening. Mothers, grandmothers, doksa girls and children are the only ones to take part. Not a single father comes as there is a pudja at Lobsang's due to the presence of a Buddhist teacher from a nearby monastery Phuktal. They are going to discuss all important matters concerning both village and school for the following year.(...)
(...) The father's absence does not seem to bother anybody. Women are bringing massive supplies of local drinks and the "parent's meeting" lasts till early morning hours. We are introducing new volunteers Katka and Jirka, and appreciating great cooperation between school and villagers. The women are excitingly clapping their hands and we all are very much looking forward to winter when Zuzana and me are coming back to this place.

The school seems to be too small for that amount of people. The women are sitting wherever possible – in the hall, in the kitchen, in the classrooms. Zuzana and me are bit worried how much the school survivesJ
Padma is getting the water tank into her hands and the music starts. We are all singing and dancing. Doksa girls put on our clothes and rucksacks on their backs, pretending to be us right before departure. They also put their clothes on us and start making up plans for our Zanskari weddingJ
In early morning hour people are getting home. Some of them are getting back with tears on their cheeks to say good bye again and again. The most beautiful Kargyak party we have ever had here. Luckily, the following day is a bank holiday – Gandi's birthday anniversary – so everybody can enjoy a day off. Not only us but the others need to relax too. And so during our afternoon walk to neighboring village Skying we find almost all party participants having a nap in the afternoon sun.
In the evening we are very nicely surprised by all village fathers. They have finally ended up their 3 – day – meeting and Lobsang cannot wait to tell us the resolution. All village fathers have promised to provide the school with yak dung which is highly important for winter season as a fuel. On the top of that they have promised not to cause any troubles. Great news for all volunteers. We will be all nice and warm during winter. To keep the promise, they have also sent the first loaded horse up to the school. We hope this one has not been the first and the last one on the same time and the fathers would keep their promise.
Juley, Juley
Zuzana and Petra