'The Journey is long, steep and not easy at all - but you can walk it, and even reach the end.'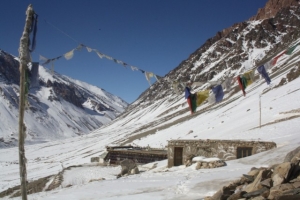 With the first sun rays we are packing our expedition 100l bags which we have to leave in Padum and we are setting out only with the most necessary stuff. We are putting on almost all clothes we have as the temperature outside is -28 Degrees and at a very slow speed we are getting to Old Padum. There Stanzin Gelek prepares tea and breakfast for us. He is one of the man who is also going to walk to Lungnak valley. At his house there is another man joining us and during first few metres of our journey we are meeting Dolma, an old, however, very energetic lady from Raru and a dog that we call Neha. Today, there is approximately a distance of 20 km ahead. ItÅ› freezing and the snow cover is at least 30 cm. Walking in these conditions is almost mission impossible. Though we have to keep going. Soon there should be the Sun warming us up and make our day at least bit enjoyable. We keep stopping a lot. Walking is really difficult. I think we both regret all highly important things we are carrying. (...)
(...) The journey doesn't pass at all, every step is more and more difficult. After few hours I can't feel my toes, however, I can't admit anything to Zuzka. I know, she has to feel the same. I wish Raru were around the next corner. I can't go any further. I am asking myself what and why are we doing all that. I love the mountains, snowy caps and their challanges, but this is just a hardcore. This feels like the last snow touring of my life.
It is getting late and I know we can't afford stopping. The Sun is gone and the temperature falls drastically low. We are almost in Raru. Or at least I think the village which is in our sight is Raru. Last 1000 metres. So difficult, and so cold. Nobody in front of me, nobody behind me. Nobody to help. I have to keep going. I start counting..one, two, three..ten, rest and again. But I am not moving anywhere!!
Suddenly, I can see two people walking our direction. It is Chosgyal and Gelek. Gelek is helping me with my backpack and Chosgyal is going to meet Zuzana.
Soon we are all approaching the stupas and the sign giving the name of the village. Unfortunatelly, we are NOT in Raru. It is just a gompa quarter - Muney monastery. All locals are determined to reach Raru that night. I don't see myself nor Zuzka spending 1 -2 more hours walking in these conditions. We are staying there and even rolling ourselves down to the main entrance is a hard work.
One of the elder monks is taking us to the kitchen. he can obviously see what state we are in and he keeps topping up our cups with salty tea. As sitting by the fire, we are slowly derfosting and couple of minutes later I am able to take my shoes off. However, I can't feel my toes.
There are little monks all over the place. They are playing cricet outside and as they are getting cold, they are running into the kitchen to warm their hands on momo pots.
There comes a beautiful bell spound cvalling all monks for dinner. We are joining them. Dining hall is a tiny room where each monk has his 'hierarchy' seat. left side of the room is occupied by little boys, monks aged 4-7 , on the right side sit 'teenage' monks and in the middle are high lamas.
Before the food comes the prayer. I am also praying myself. I am thinking about what has just happened, thanking the mountains to get us through and thinking about those I love. I feel like crying...I can't believe to what happened just few hours ago and what a beautiful place we ended up at. Suddenly, I can hear Zuzka whispering into my ear ' It such a beauty, I am going to cry'...what a very precious moment that I can't even describe with words..And we both realize how happy and blessed we are, getting a chance to comem back to Zanskar; and being able to share the simple, pure and awesome life in Zanskar.
20.1.2013: Padum - Muney Monastery

Peta and Zuza