'Everybody can blossom, even in winter'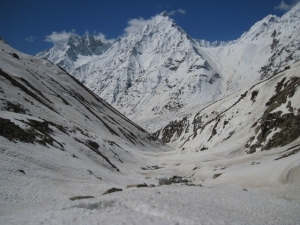 And this is what we stuck to during long winter months in our Sun school. One can ask a question what to do in the Himalyas over winter when everything around you gets covered with one meter of snow.
However, we were not worried about the snow, on the contrary, we loved it into pieces. We brought the snowboarding and skiing gear from the nearest town Padum, located 80km far away from our village and the real village excitement started.
We skied every free lesson, every afternoon and during the month of March we carried out snowboarding and skiing camps for our students.
All of them skied and most of them were doing really well. Grown-ups watched cheerfully, however, except trying to bind their local wellies into the ski binding, they did not try any further...
Than we worked on the handicraft workshops. For the girls we prepared a 2-day - knitting and stitching training during which they acquired different knitting techniques and each girl knitted a pair of half socks 'jato' or a pair of the Zanskari socks 'hesup' under the guidence of Mme Tsomo. Naturally, all according to the latest fashion.
However, stiching turned to be bit more demanding and over the initial needle-thred fight, few girls managed to make a fashionable purse.
For the boy we organised carpentery workshop under the guidance of a village carpenter Lobsang. The boys learnt how to work with the file, hand saw, hammer and managed to put together a beautiful wooden toy box for our youngest pitchers.
After the spring came to our school the activities of sun students did not end. And all the sponsors, to whom we would like to say many thanks for their support, should be looking forward to the beautiful presents the students are preparing for them.