KIDS´ REPORT on a school trip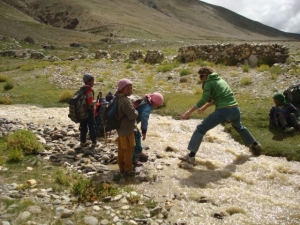 "We went to Stondey Gompa. We came from Kargyak to Yal and in Yal we stayed overnight. Then another morning we came to Padum. We went to Sir Zangpo's house where we drank some tea and ate chapatti and dal. Next day we visited Od Padum, bought some bananas and apples and in the evening we learnt how to use the internet. " Chuskit B, class 6 (read more...)
"We went to Stondey Gompa. We came from Kargyak to Yal and in Yal we stayed overnight. Then another morning we came to Padum. We went to Sir Zangpo's house where we drank some tea and ate chapatti and dal.

Next day we visited Od Padum, bought some bananas and apples and in the evening we learnt how to use the internet. "
Chuskit B, class 6
"Our school trip to Padum was very nice. We stayed at Sir Zangpo's house. We went to Stondey Gompa.
We went to Internet café, sent some postcards to our sponsors.
We saw Old Padum Gompa, then we saw stupa and also a cave."
Norbu, Class 5
"In Padum we went to Kishirak to Sir Zangpo's house and then we drank tea. In the morning we went to Stondey Gompa and after we came back to Kishirak and made dinner. Next morning we went to Old Padum Gompa and we also saw some chorten sculptures and a holy cave. Then we went to the market and bought some vegetable and fruit. In the evening we went to the internet café, sent some postcards. We drank tea and ate mok-mok in a local dhaba. Late at night we went home and next morning we went back to Kargyak. It was a very nice trip."
Chodon, Class 7