On the way Home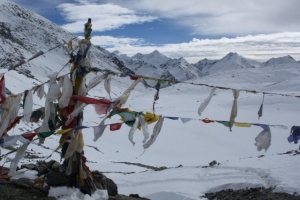 It is two o'clock in the morning and we are finishing our packing. For more than two days we haven´t slept, however, we are feeling lively, full of energy and we are looking forward to being "on the other side". So we are not even scared off by our twenty-kg-bags.
We are passing through the village and both of us had agreed that this departure is so far the easiest one. Everybody and everything is still in bed…no kids, no villagers, no friends…nobody to say farewell. The only family whose window we knocking on that early in the morning, is Tsomosś family. She is a graduating student of ours that is supposed to leave for a new school in Manali. Everybody is still wrapped up in the blankets and sleeping. The fact that their daughter is leaving for a place which is miles away from home doesn't obviously seem to bother. Tsomo herself is also still in bed and we are bit worried whether she leaves with us or not. Her eldest sister, Choton, is making a fire and slowly getting the things ready..tea, salt tea, soup…We are making sure ourselves that Tsomo is ready and packed as nothing indicates that. After almost hour and half of tea drinking at the parents´bed, whose are still half sleeping, Dawa, the father, gives the order to set off since we are going to walk slowly anyway and Tsomo can catch up with us later as she is going to walk together with the boys from the neighbouring village of Skying. We are bit surprised, however, we are pretty used to these fast and immediate changes. Weŕe setting off.
The night is clear and quiet. The moon is fully shining on our way. Itś badly freezing but we are soon feeling quite warm due to the heavy bags we are carrying. Tsomo and the other boys are joining us right behind the village and for some two, three hours we are all walking together. However, with the passing kilometres we are falling behind; Us, the night and the holy mountain of Gomporanjon. With every step we make, we can feel how heavy the bags are. The river is already frozen so we are able to cross it at Lakang and further up we are hiking on the left side. The Sun is welcoming us with its warm rays into a new day and we are slowly warming up.
Above the chorten we´re meeting a group coming back home from Keylong, with a newly purchased herd of yaks. Norbu and Sangei are making tea for us and we are fully enjoying the familiar faces. Both are shocked from the amount we are carrying and theyŕe offering their horseman who is coming back the following day. Weŕe considering the possibility of hiding the bags into an underground shelter in which this group had spent the previous night. How about if it stars snowing? Then we should pick them up next summer..so again we setting off with the "monsters" on our backs. We can feel every kilo in the bag. Every step is getting more and more difficult and the tiredness is approaching. Weŕe climbing up very slowly and having rest on almost every not snow-covered stone. In these moments I am falling asleep. I can't keep myself focused any more.
In my thoughts I am back in the village, at school..with kids…I am drinking tea, talking with the teachers..Whatś that? Whatś happening in my mind? Get up, quickly!!Move!!...But I can´t…I am again counting down…ten..nine..eight…and again and again…still I can´t stop my thoughts. Maybe the first time I am not enjoying the scenery around me. I feel like being in another world, in another universe which I can´t handle and feel like there is no way back. I am couple of meters below the pass to where I am literally crawling, reaching at the end of tether.
The sky has cleared up and we are at least rewarded by a breath-taking view of the Himalayas in the full beauty
;
Mighty and merciless Himalayas. Itś two o'clock in the afternoon and we are deadly tired. We are taking into consideration the length and timing of the journey down to Zanskar Sundo. We are both aware of the shortage of time and we know well that the prearranged car that is supposed to wait for us at six o´clock, can´t be managed. However, the image of the "way down" forces us to get up and keep hiking. We are more tired than we are willing to admit. I am falling down within the first steps. I am not able to keep myself on the path and the lower we´re getting, the icier the path is. There are certain parts where we have to get on "our four". We´re afraid and neither the steep bank nor the river below us help to act fearless. We hiking down the narrow valley where the Sun sets early
;
it's getting cold. Snowś all over…white in front of us, white all around. It takes us another three hours to get down to Zanskar Sundo. We know that even an insane person wouldn´t be waiting in these freezing conditions for us more than ten minutes. In a case the driver wouldn´t turned up, we had planned to leave the bags in the tea shop at Zanskar Sundo and carry on hiking up to the first village of Rarik. Now we both know that another two or three hours of walk is mission impossible for us. So we are staying at Zanskar Sundo. The tea shop door is unlocked and the place immediately becomes "a three- star- hotel". The content of our bags serves more than well as a good bed and some other clothes were putting on. Itś minus fifteen and the woollen sock, we´re carrying as presents for those we love, we putting on our hands. We cuddling up each other and falling asleep embraced….Nilam demo ni kipo co…