Tsomo: The first Sun School Graduate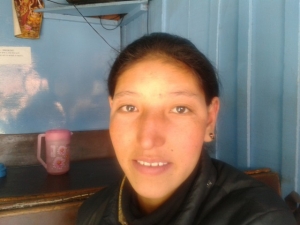 Tsomo is a girl from the village of Kargyak who has finished the eight class at the Sun School Kargyak as the first student. She has decided to carry on her studies and we would like to fully support her decision.
These days there is no educational institution providing the tuition for the ninth and above classes either in the village itself or in the surroundings. Therefore after long and careful consideration of all possibilities, talks with her father, talks with the Sun School headmaster and other competent people there was made a decision of capital importance for Tsomo and that is to leave Zanskar and come to Manali.
The decision wasn´t easy at all; neither for Tsomo nor for all around her. Tsome has never been the best student. Instead of doing homework, she has to help at home, leave the village to graze the yaks high in the mountains or to help in the field. Her destiny wasn´t to study. Her father had preferred his three boys to be sent to school and there was no space left for Tsomo…Her destiny was simply to be a "doksa girl" that would help her mother and father around the house. However, there is already a girl like that in the family so sending or keeping Tsomo at home was more or less a question of money.
We had tried to talk with her father Dawa for almost two months¨. However, we weren´t much successful. There came a sharp turn in Dawaś decision when Sir Chosgyal, the Sun School headmaster, got involved and persuaded him to allow Tsomo to study further.
Tsomo left Kargyak together with us. And one could ask what she took with her: Clothes, books, pictures, photos…It wasn´t that much. The clothes she was wearing, a pair of shoes to get changed, a flask with tea and chapatti…there was no more space left for anything else in her bag.
Her brother Chostar was waiting in Manali for us. He dealt on behalf of Tsomoś father and was always very helpful. Every day in the morning all of us set off together for "entrance interviews". There are many schools in Manali and its surroundings so the choice for the students is quite wide. For us, however, were quite a few restricting points we had to keep in mind. Firstly, we were looking for en English Middle School, not Hindi one as Tsomo had studied all subjects like Math, Geography, Physics, History, etc. in English and all terminology in Hindi would be too difficult for her. Then we also had to take into account the study of Sanskrit that is not a part of compulsory curriculum. If she had to start this subject from ninth class on, that would be very likely a big struggle for her too. And finally, it was necessary to pass the entrance benchmark test.
After some days of these procedures both Tsomo and her brother Chostar were tired. Chostar acted very responsibly and there came a time to make a final decision. We tried to get in touch with Kargyak so that we could have gone through the whole situation with our headmaster Chosgyal. After taking into account all pros and cons, we all made a decision and chose DAV School Manali that we hope is going to be the best choice for Tsomo. The new school session starts in March next year and by that time Tsomo is going to have private winter tuition not to be idle.
And further on Tsomo has to fight herself. We hope we have done all we were able to do for her and the life that is ahead is going to be full of happiness and school success..te hussar sil, Tsomo, hey