Zanskari Cuisine...how to prepare 'mok ­ mok' dumplings..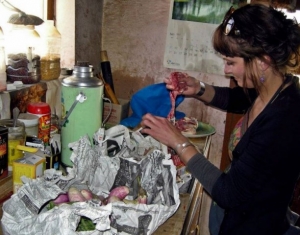 Despite the simplicity and frugality of the Zanskari cuisine, there are many types of different food and most of them are incredibly tasty. As for breakfast, 'chapati' flat cakes are usually served with cooked vegetables, 'tuk­tuk'bun dipped in tea, freshly - made youghurt or in case of physically demanding work they serve rice and 'dal'. The breakfast is served much later than when we are used to at home and therefore the other food is also postponed. Lunch is not the main food of the day and during spring and summer months, the lunch is eaten in fields so that they can save time getting home and back and preparring the food. The main food of the day for most of the Zanskaris is dinner which is served between ten and eleven o'çlock at night. No matter how late they serve the food, there is no rush. Rice is almost every day diet. What it comes up with, it depends on the season and on the currently availability at home or in the garden. In winter it is typically 'dal' lentils that is cooked. In summer they eat potatoes, cauliflower, peas or anything having leaves that can be found up in the hills or in the garden and it is generally called vegetables. Another typical part of Zanskari diet are dumplings 'ti ­mok' or ' mok ­ mok' that are usually served on special or feastive occasions. Almost every valley, every village and often even everyfamily uses different style of shaping. How to make Mok ­ Mok?
Momo are made with a simple flour­and­water dough—white flour is generally preferred—and sometimes a little yeast or baking powder is added to give a more doughy texture to the finished product.
The fillings differ according to the taste and possibilities ot the particular family.
Typically, potatoes are used to create the vegetable filling. Such kind of filling is available all year around and is easy to get. The potatoes must be cut into very small pieces, and flavored with fresh herbs and spices and cooked lightly before used for filling. As for the feasting time, the mince meat is also used. Most likely it is lamb, however, available in winter or spring months only.
'Mok ­ mok' are steamed in so called 'mok­mok' pots which consist of more layers in order to be able to feed all members of the family on the same time. :-)