Flood in the Valley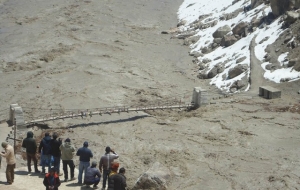 Less than a fortnight after the news of the earthquake in Nepal was released and our worries that the aftershocks hit the region of northern India and Zanskar were quickly dispersed , the Indian media reported about the flood that swept from an area close to Phuktal monastery to Padum and caused considerable material damage in some parts of Lungnak valley and other areas.
The flood danger has been discussed since the beginning of the year when a severe landslide occurred in the region. Stawa magazine describes the situation as follows: "Phugtal river, also known as Tsarap river, was blocked by a landslide on 31 December 2014, which led to the formation of a 14-km long reservoir. Once the blockage was discovered, several high-level meetings, aerial surveys and mitigation efforts were carried out. Despite these efforts, on 7th May 2015 the water reservoir breached the blockage with no prior warning. The flood caused by the sudden breach demaged infrastructure in the Lungnak area of Zanskar and other areas located along the Zanskar and Indus rivers though no human fatalities or livestock losses were reported. Several motor-able, foot suspension and traditional rope bridges, cultivated land and plantations were damaged, while the reserve wood stock of a private school run by Phuktal monastery were washed away."
According to local resources, extensive repair works have been carried out throughout the affected parts of the valley; however the access to the area from the Padum side remains difficult. The village of Kargyak has not been immediately affected by the flood as it is situated on the opposite end of the valley, and it is easily reachable from the Shingo-La side.
Source: Stawa magazine, Vol. 2, Issue 6, June 2015, Phugta Reservoir Breach by Tsering Dolkar
Image courtesy of Stanzin Likdon and Stawa magazine