DAY FORTY-FIVE – Eva and Prokop back in Leh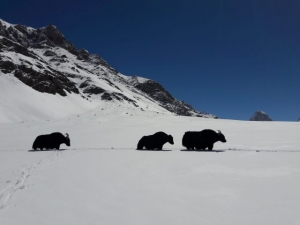 We are back in Leh and drinking coffee. A Month and a bit later we are exactly where we started. This was not our plan. We were supposed to be in Manali bating in hot springs already a week ago. But… Let´s start from the beginning. The start was tough. Days passed so slowly. We established our daily routine: teeth, morning exercise, breakfast, dish washing. Lesson preparation on our philosophical stone, which is situated between children´s toilet and Dawa´s (teacher who we stayed with) little vegetable garden. We didn´t come up with anything worth mentioning here. Following lunch, dishes, school, short walk, helping villagers with harvest, dinner, sleep. Every day the same. After first few days that felt like month, the month passed like few days.
We wanted to end our stay with a proper celebration of 10th anniversary of Sun School. Míša and Vašek with whom we were to change in Kargyak arrived on time on Friday 21.9. with beautiful weather and the party began. We baked cakes, decorated school, invited everyone from the village and started the celebration. We sang songs and performed a theater play with the kids. Locals sang songs and danced. We drank chang. Everything came out better than expected. On Saturday, we packed our things, said goodbye to everyone and got ready for Sunday departure. It stared to snow. Nevermind, it will melt till the morning. When we woke up in Sunday morning it was still snowing. We are not going anywhere today. Dawa said: "maybe tomorrow". Monday morning and it´s still snowing. Dawa with a smile: "You are staying for winter". We are not laughing, the kids are. Every time we meet someone we hear: "You should be in Manali". We are not excited but still lucky. There are tourists in the mountains and cut grass under the snow. We are warm inside with food to eat. We shovel snow (what smart engineer came up with flat roofs!).
After a week the snow is still everywhere and it is clear that we are not going to Manali. Locals are saying that if the pass will open it will take at least two weeks. There is also a group of Nepali people stuck in the village with us waiting for a chopper to take them out. We are allowed to leave by the locals but back to Padum. We wanted to leave so much for the last week and now when the time came, we don´t want to.
We leave the same route as we came here and it is still completely different. Except the snow all around us we are messengers of the news, about the conditions in the village, feets of snow, condition of the Nepalis. We did not receive so many tea invitations ever here.
The snow took two weeks from us and even a lot of money (last minute flight ticket from Leh to Delhi is not cheap :-)) But we do not regret anything.
We saw Kargyak in summer as well in winter. When the snow came, the villagers stopped the harvest and we could finally get to know everyone in the village. We experienced how quickly can the weather change in the mountains.
We are drinking coffee in Leh and we miss the place. We plan to go back. But...our plan was also to be in Manali a week ago.
We will see.